ELECTRIC TUNEL DRYER DEL series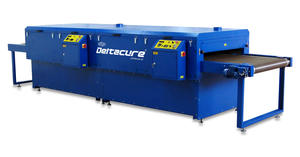 Standard heat chamber LENGTHS in DEL series dryer: 200 cm (79"), 250 cm (98") - SEGMENTS MIGHT BE CONNECTED
Standard belt WIDTH in DEL series dryer: 61 cm (24"), 96 cm (38"), 122 cm (48"), 152 cm (60")
HEAT CHAMBER LENGTH
INLET/OUTLET LENGTH
BELT WIDTH
ELECTRICAL REQUIREMENTS
PRODUCTIVITY/ENERGY CONSUMPTION
PICTURE
TECHNICAL DRAWING
MODEL

DEL-2479(A)

200 cm
50/50 or 75/75 cm
61 cm
8.8 kW

300 pcs/hr

5-6 kWh/h

DOWNLOAD
DOWNLOAD

DEL-2499(A)

250 cm
50/50 cm
61 cm
10.5 kW

375 pcs/hr

6-7 kWh/hr

DOWNLOAD
DOWNLOAD

DEL-24158(A)

2 x 200 cm
75/75 cm
61 cm
17 kW

600 pcs/hr

10-11 kWh/hr

DOWNLOAD
DOWNLOAD

DEL-3079(A)

200 cm
50/50 cm
78 cm
10 kW

380 pcs/h

6 kWh/hr

DOWNLOAD
DOWNLOAD

DEL-3879(A)

200 cm
75/75 cm
96 cm
13.5 kW

480 pcs/hr

8-9 kWh/hr

DOWNLOAD
DOWNLOAD

DEL-3899(A)

250 cm
50/50 cm
96 cm
16 kW

600 pcs/hr

9-10 kWh/h

DOWNLOAD
DOWNLOAD

DEL-38158(A)

2 x 200 cm
75/75 cm
96 cm
27 kW

960 pcs/hr

14-15 kWh/hr

DOWNLOAD
DOWNLOAD

DEL-4899(A)

250 cm
120/120 cm
122 cm

20.5 kW

720 pcs/hr

11-12 kWh/hr


DOWNLOAD
DOWNLOAD

DEL-48114(A)

290 cm
120/120 cm
122 cm

23 kW

870 pcs/hr

14-15 kWh/hr

DOWNLOAD
DOWNLOAD

DEL-48158(A)

2 x 200 cm
120/120 cm
122 cm
33.5 kW

1200 pcs/hr

15-16 kWh/hr

DOWNLOAD
DOWNLOAD

DEL-60158(A)

2 x 200 cm
120/120 cm
152 cm
40 kW

1440 pcs/hr

22-24 kWh/hr

DOWNLOAD
DOWNLOAD
The air circulation has key influence on water base and solvent ink curing. Its not necessary for plastizol inks however air flow increase heat capacity and temperature stability. Adjustable airflow divides heat into IR radiation and air convection heat. The ratio between those two forces depends on flow amount. It has great advantage with temperature sensitive substrate printed with high energy plastizol curing i.e.; paper covered with plastizol ink

Cooling panel idea drawing in DEL series dryers: download, CS option
Air flow idea drawing in DEL series dryers: download, A option
Exhaust fan idea drawing in DEL series dryers: download, EF option
Extra safety and signalization idea drawing in DEL series dryers: download, SCR option
The size of the tunnel should be chosen according to printing capacity. Extra margin of production capacity must be kept. Its always better to decide for having margin in width of the tunnel, while its always possible to order extra HEAT CHAMBER to increase production capacity. (Production space is important factor here)
HOW TO CHOOSE THE RIGHT TUNNEL?
WHAT CAN BE CURED WITH PRINTEX TUNNEL?
GAS or ELECRIC?
NEW or SECOND HAND?
PRINTEX TUNNEL - IS IT RIGHT CHOICE?
WHAT IS THE VALUE OF MY EQUIPMENT AFTER AMORTISATION PERIOD?
NEED FINANCING ?
NOTE: Since JULY 2012 we introduce new line of DEL series with improved heat installation, brand name elements.