HURRICANE-SLE - automatic press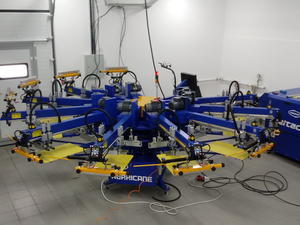 Hurricane is fully equipped compact machine, AC driven print heads, servo INDEXER rotation system, all features control keypad on every head. Software fully corresponds with machine hardware possibility. Sequences, Multi print flashing, half index in both directions, fully implemented IR Quartz flashes. Availability of front-rear and side screen holders give choice of most convenient solution.
AVALIABLE MACHINE SIZES, HURRICANE: 4, 5, 6, 7, 8, 9, 10 COLORS
Print Format 41 x 60 cm (16 x 24")
FLASHES suggested to work with HURRICANE:

CLH 2024


IR ELECTRIC Tunnel dryers suggested to work with HURRICANE:

DEL-3899(A) , DEL-38114A, DEL-38158(A)

When HURRICANE is the right choice:

If demanding - high quality, high speed prints are wanted. If medium print formats 16 x 24" are satisfying, if diameter matters.
HURRICANE-SLE 8s 6c; download specification, download technical drawing 41 x 60 cm, download technical drawing 90 x 60 cm, download picture (front-rear screenholders)
HURRICANE-SLE 10s 8c; download specification, download technical drawing 41 x 60 cm, download technical drawing 100 x 60 cm, download picture (front-rear screenholders)
HURRICANE-SLE 12s 10c; download specification, download technical drawing 41 x 60 cm, download technical drawing 100 x 60 cm, download picture (front-rear screenholders)
HURRICANE-SLE 14s 12c; download specification, download technical drawing 41 x 60 cm, download technical drawing 100 x 60 cm, download picture (front-rear screenholders)
NOTE: ANY HURRICANE CAN BE MADE IN SIDE SCREEN HOLDERS VERSION
download technical drawing of SIDE SCREEN HOLDERS HURRICANE 12s 10c as example