UVL TUNEL DRYER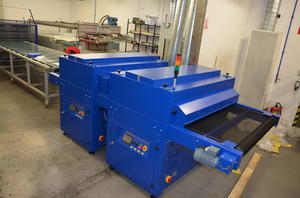 UVL series UV tunel comes in choice of belt widths:
24" (61 cm), main view
30" (78 cm), main view
38" (96 cm), main view
48" (122 cm), main view
60" (152 cm), main view
Lamp used is Medium preassure Mercury lamp, electronic power supply with full power control and stand by function. Addaptative cooling keeps lamp in perfect stable conditions. Compact design, underbelt adjustable vacuum, touchscreen interface. Adjustable hight of lamp over the belt in range 0-200 mm reduces heat, changes power density, higher elements curing possibility, optional shutters for roll-to-roll seqential curing.
Single, double or triple lamp configuration.