GAS TUNEL DRYER GAL series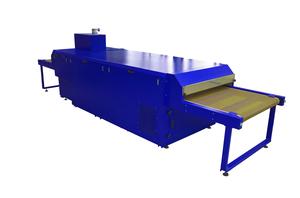 GAL series Gas fired Tunnels are mainly used in printing shops with big capacity requirements.
We offer two models :
GAL-48 - belt width 48" (122 cm)
GAL-60 - belt width 60" (152 cm)
The important feature of GAL series dryers is heat exchanger for separating burner's fumes from drying chamber. With such design we can use any burner (NATURAL gas, LPG gas or DIESEL heavy oil), drying chamber stays clean with no flame nor open fire presence.
Air flow ad recirculation system ensures proper heat exchange and even temperature distribution across the belt.
With GAL series dryers we can cure also flammable substrates (or fumes), while open fire is separated.
GAL dryer can also work in HEATING MODE as facility heater if necessary
technical specification GAL-48-115
technical specification GAL-48-146
technical specification GAL-60-115
technical specification GAL-60-146
technical specification GAL-72-146